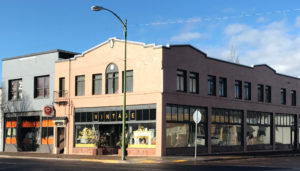 Nestled in the heart of Prineville's historic block district at the corner for 4th and Main St. The Bunkhouse is located on the second story above the Vintage Cottage Prineville's Small Business of the year for 2016. A recently renovated 12 room bunkhouse; amenities include both men's and women's bathrooms and showers, onsite laundry, and wifi. The rooms are secure with extra storage options available. The Main St. Bunkhouse is walking distance to a number of local restaurants and breweries. New restaurants and breweries have opened recently within one block of the Bunkhouse. The historic block district shows off the local microbrews that Oregon is known for. The Bunkhouse is an extended stay hotel ready to meet the needs of the local workers from the data centers and the solar centers.
Contact us to make a reservation today!
Check out the map of our location!