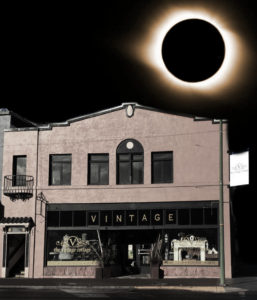 Last rooms available for the August 21st Solar Eclipse in Central Oregon!
Nestled in the heart of Prineville's historic block district at the corner for 4th and Main St. The Bunkhouse is located on the second story above The Vintage Cottage Prineville's Small Business of the year for 2016. Recently renovated 12 room bunkhouse; amenities include both men's and women's bathrooms and showers, onsite laundry, and wifi. Private rooms with a shared bath.
Prineville is located in the totality pathway of the Solar Eclipse. 
Multiple eclipse related events nearby, including Symbiosis (Big Summit Prairie).
Auctions for these rooms just started on eBay! The following are the rooms that are currently available:
For a full listing of rooms available please check out our seller account with ebay at:
mainstbunkhouse5
Multiple rooms currently available! Don't wait too long as they are selling out quickly. The reason they are the last rooms currently available in Central Oregon is that the building's renovations have just been completed!